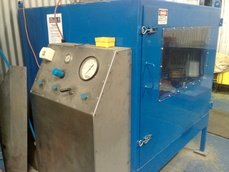 The innovative LifeGuard sleeve was rigorously tested both in the lab and in the field to verify its performance and capabilities at typical fluid pressure and temperature levels. While there are no current industry regulations published for this type of product, Gates testing program may be part of an effort to establish future standards for end-user applications.
Inline with Industry Standards
LifeGuard sleeving correlates to a variety of industry standards including ISO 3457 and MSHA's flame-resistance requirement. ISO 3457 – meets the intent of ISO 3457 that requires operator protection within a three-foot line-of-sight of any hose conveying fluid above 725 psi at 120°F (49°C).
Complete Hose Lifeguard
Complete Hose Lifeguard Gallery