Hydraulic Services
Complete Hydraulic Services technicians and administrative support personnel are ready to serve the local market with fluid power requirements. Our operating hours and call out availability are determined according to customer requirements.
Overview
At Complete Hydraulic Services we carry component and spare parts inventory and have appropriate technical equipment and mobile service capability to support any industry.
Complete Hydraulic Services Group of Companies is not just limited to a small range of products but has access to world class quality brand names synonymous to fluid power users. These products are sourced directly from the principle Australian Importer distribution chain or direct from overseas source plants. With such a network of distributors available they can supply customers what they want when they want. This flexibility eliminates the unnecessary commercial restriction of being a dedicated distributor.
Hydraulic Services Gallery
Hydraulic Services
Engineering Capacity
We do not just rely upon our own engineering expertise but a network of qualified fluid power industry professionals.
Our customer's have the right to expect specialists on call to provide the most cost effective and practical fix in the shortest amount of time.
Maintenance
Keeping equipment operational and performing at optimum levels requires an understanding of the importance for machine maintenance.
Many of our clients have benefited from tailored schedule maintenance programmes. Implementing this practice early saves you money.
Customer Support
Engineering Calculations and Design
System Evaluation - Performance and Suitability
Product or System Failure Analysis
Implementation of Preventative Maintenance Strategy
Local Inventory Advice Understanding the needs of our customers and providing strong support is a fundamental part of today's business environment.
Modernisation and Upgrades
Reduce Downtime
Reduce Maintenance Costs
Reduce Oil Consumption
Eliminate Product Contamination
Effect Process Changes
Upgrade Technology
Improve Production Cycle Time
Service and Repair
In-Shop Repair of Pumps, Valves, Actuators
Field Service / On-Site Diagnostics Chart Recording
Programmed Maintenance. Failure Analysis
Fluid Analysis
Filtration Specification and Implementation.
Testing Capabilities
Pump & Motor testing to 75 kW
Open & Closed Loop Test Stands
Static & Dynamic Valve Testing facilities
Hydraulic Products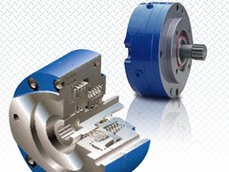 Brakes
We have a range of well known brand in the assess equipment field. This is range of failsafe brakes designed for the mining, construction, crane and related industries in torques to 40,000 (lb-in) = 4520Nm. This brake can be easily attached to many types of gearboxes.
Brakes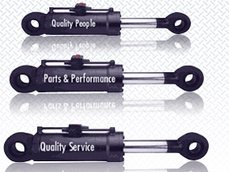 Cylinders
We are able to supply a complete range of hydraulic cylinders. ISO, Mill, Agricultural, and medium duty cylinders are generally manufactured to the NFPA design known as round-line cylinders. The workshop facility specialises in the repair of this type of and heavy duty mobile equipment cylinders. We have a purpose designed and built honing machine, providing high levels of precision and accuracy required on in heavy duty applications.
Cylinders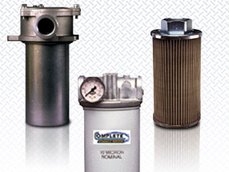 Filtration
We also offer well known "Brand Name" filtration products, which are integrated into hydraulic systems to provide maximum contamination protection to maintain ISO Standard requirements. Complete Hydraulic Services work with many customers at the initial stages of design to ensure the best possible solution before equipment is in operation. Complete Hydraulic Services offers a range of filtration products and services. Preventative maintenance monitoring programs are also available.
Filtration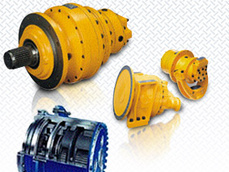 Gearboxes
Torque-Hub planetary final drives and wheel drives with torques to 395,500Nm. The range includes gearboxes for transit mixers and planetary gearboxes available in up to six stages with ratios in excess of 5000:1 and torques in excess of 500,000Nm. This type of planetary gearbox can be seen in many applications, conveyor belt tensioning, winches, mobile boot ends, concrete mixers and track drives.
Gearboxes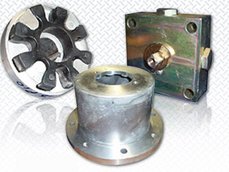 Hydraulic Accessories
We have a range of hydraulic accessories including suction and return line filters, hydraulic reservoir hardware, motor bell housings and couplings, high pressure hydraulic filters and test and monitoring equipment. To compliment our accessory range we have in house and onsite hose making facilities with associated adaptors and fittings.
Hydraulic Accessories
Manifolds
Complete Hydraulic Services manufactures a large range of standard and special purpose manifolds to suit a multitude of applications. We have manufactured custom manifolds up to 750kG in weight and handling flows up to 1,000 litres per minute. These manifolds can be complete hydraulic integrated circuits or designed to reduce hose and connection complexities.
Manifolds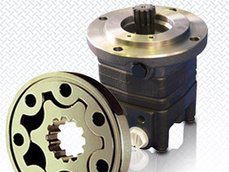 Motors
We have available a comprehensive range of hydraulic motors. This range encompasses Gear, Axial, Piston, Radial, Geroler, and Gerotor types for both high speed and high torque applications. Hydraulic motors are available in wide ranging capacities, even exceeding 5 litres per revolution.
Motors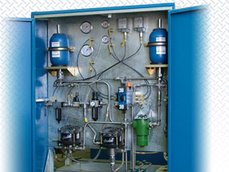 Pneumatics
We have access to an extensive pneumatic range of equipment range with specialist valves in 316 Stainless Steel. In addition to pneumatic valves, we can provide a comprehensive range of pneumatic Power Units – Standard & Custom
Pneumatics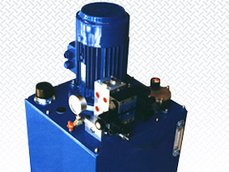 Power Units - Standard and Custom
Include in our range of products, manufactured to order, is a versatile standard range of power units consisting of our MINI range from 2litre to 30litre capacity (12/24vdc , 240vac) for applications, our standard 40, 80 and 160 litre power units (240 – 415vac), to specialised power units built to customers specifications.
Power Units - Standard and Custom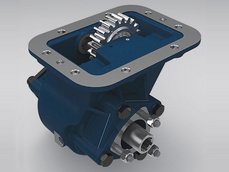 PTO Units and Pumps
Complete Hydraulic Services can supply all your requirements for PTO units, pumps and mutli stage tipping hoist cylinders which are suitable for mobile equipment usage. With the large product range available by well known manufactures in the industry such as; Powauto and ROC Hydraulics we can supply and install your tipping needs as required. With one of the largest ranges and stock available we can guarantee a quick turnaround with less down time.
PTO Units and Pumps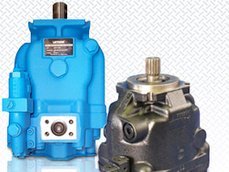 Pumps
Our primary pump range is Sauer Danfoss Daiken. We also supply direct other well known brands such as Rexroth, Eaton, Parker Axial type piston pumps, Commercial and European gear pumps, Axial Piston and Gear pumps. These pumps can produce flows from 1cc to 500cc per revolution and accommodate pressure up to 420 Bar continues with volumetric efficiency up to 96%.
Pumps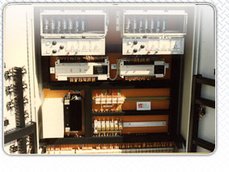 System Integration
To meet production demands at competitive prices, technological innovative solutions have become a major factor influencing the total outcome of long-term profitability. Complete Hydraulic Services can provide assistance to our clients with the integration of electronic control for various hydraulic and pneumatic components. Types of controls range from basic switching, proportional, servo and radio remote in open and closed loop form. These features are integrated into a pump, valve or actuator, which can be connected and controlled by microprocessor systems. Today's fluid power manufacturers focus on innovative modular designs to industry standard interfaces. This allows ease of adaptation of various control features, providing cost effective solutions for system upgrades.
System Integration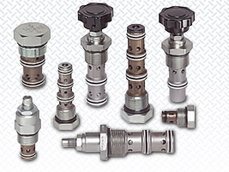 Valves
We offer hydraulic valves to control direction, pressure and flow by manual, electrical and electro-mechanical operation. These valves are manufactured by Sauer Danfoss. As with our pumps, valves are also supplied by Fluid Controls, Oil Control, Husco, Oilpath and Sun. We often design manifolds to use with these valves to complete a control package. Our valves control flows from less than 5 litres per minute to 500 litres per minute and operate at pressures up to 420 bar.
Valves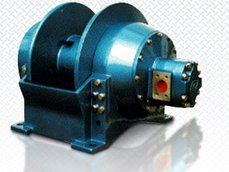 Winches
We are able to provide hydraulic winches for drilling, mining, marine dredging, logging and construction applications.
Winches
Complete Hydraulic Services
Phone: 42 761 122
Mobile: 0405 506 573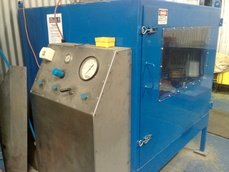 The innovative LifeGuard sleeve was rigorously tested both in the lab and in the field to verify its performance and capabilities at typical fluid pressure and... view featured project
Hydraulic Services - Hydraulic, Hose and Excavation services - Complete Hydraulic Services