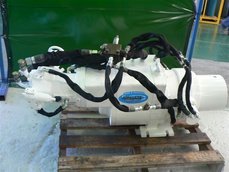 Date: 01.09.2009
Complete Hydraulic Services is an independent fluid power company that employs 30 local trades people, engineers and apprentices. Established in 2002 and based in Port Kembla, Complete Hydraulic Services has built a strong client base, particularly in the mining sector.

Complete Hydraulic Services specialises in the repair, maintenance and service of fluid power components and systems. The company also can provide integrated packed systems complete with design and installation.

Complete Hydraulic Services carries component and spare parts inventory and has the appropriate technical equipment and mobile service capability to support any industry including the earthmoving, industrial and transportation sectors.

"With years of experience in the hydraulic industry we have situated ourselves as a specialist in mobile hydraulic system fault diagnosis, service, repair and design," said Peter Brown, managing director of Complete Hydraulic Services.

"Our independence allows us the flexibility of working with a network of mainstream suppliers to meet our customers' demands. The supply of products can be distributed directly from product specialists and engineering resources in Sydney, Melbourne and as far as Perth to support local activities.

Since its inception, Complete Hydraulic Services has made considerable investment in real time diagnostic performance evaluation equipment and dynamic simulation test benches. "We always strive to keep abreast of current methods, work practices and technological advancements," said Peter.

For more information phone (02) 4276 1122, or contact us by email.
Fluid power supports the local mining industry